Innovate SaaS with Chatbots based on Oracle Digital Assistant
28 28+00:00 June 28+00:00 2022 @ 16:30

-

17:30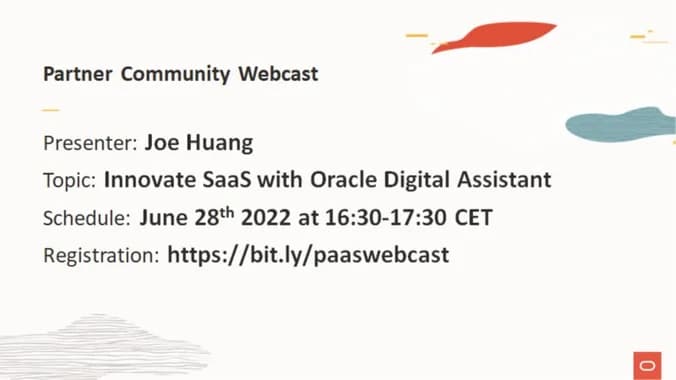 Digital Assistant is an AI service that offers prebuilt skills and templates to create conversational experiences for your business applications and customers through text, chat, and voice interfaces. Application owners can easily get started with prebuilt skills to provide chatbot functionality to business users. Discover partner opportunities for SaaS services like HCM Cloud, Sales, Expense, Public Sector, Logistics, Project Management, PeopleSoft, B2C Service, Field Service, EPM, Recruiting, Care Experience, Siebel that include a Digital Assistant. For more information please see the Oracle Skills Documentation.
Speakers: Joe Huang & Jürgen Kress
Schedule: June 28th 2022 16:30-17:30 CET (Berlin time)
For details please visit the registration page.